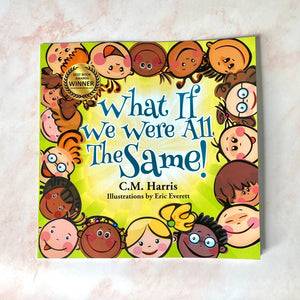 What If We Were All The Same!: A Children's Book About Ethnic Diversity and Inclusion
Best Book Awards Winner at AmericanBookFest.com!
Written by C.M Harris
Illustrations by Eric Everett
Aimed to help children understand there are many great reasons for being friends with those who are different than they are. Whether they have red hair or brown hair, green eyes or blue eyes, long legs or short legs, light skin or dark skin, glasses, uses a wheelchair or anything else, it's absolutely OKAY! Our differences are what makes us unique and if we truly think about it, would you want to be the exact same as someone else?