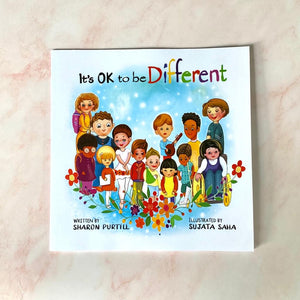 It's OK to be Different: A Children's Picture Book About Diversity and Kindness
Literary Titan Gold Award Winning Book
Written by Sharon Purtill
Illustrated by Sujata Saha
Every Child is Unique! Whether they are big or small, short or tall, like to swim, dance, sing or bike. Perhaps they have a special need or are from a different ethnic background. Maybe they wear glasses or talk differently. The truth is that all children are different and their individuality should be celebrated, not shunned. And this inspiring and brightly illustrated rhyming picture book does just that.
By highlighting the ways kids are different from one another it helps children to accept themselves and others as the beautifully unique individuals that they are. It's OK to be Different encourages kids to be kind and befriend those who are different from themselves, showing young children that they don't have to look alike or enjoy doing the same activities to be kind to one another.
Readers will come away with the message: "You should always be kind to those who are different from you. Because to them, YOU are different too."